Here is my 2nd entry for the Dalicious photo contest. The theme is "Chores".
I was thinking a lot of what to do for this photo and at first I thought of the musical "Annie" and the song "It's a Hard Knock Life" and then I also thought of the movie "Cinderella" so this photo is inspired by both.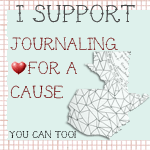 I am having fun doing the 30 Day Journal Challenge by Janel of Run with Scissors so I decided to sign up for her next Journaling class called "Journaling for a Cause" She will be using the money from the class to help towards adopting a child. The class starts Monday July 26.